16 April, 2015
The Ultimate Cheat To Your Afternoon Sugar Treat
Our jelly bean clear dispensers come with a pack of different coloured confectioneries.
With our ingenious packaging, it comes with a mini scoop to pick up the jelly beans without having to worry about your dirty hands. The rainbow coloured jelly-beans give you a good mood and a satisfied taste. It's definitely the perfect way to cheat yourself into some delicious treats when you're at your desk and have your sugar cravings.
The transparent plastic can make you see how much is left so that if you are about to run out, you'll know when to order your next one.
This product is also great for parties, a conference or a trade show, handing these out will definitely be a great unexpected gift that will get yourself known. It will promote your name as you can customise your logo or any other relevant information on the front.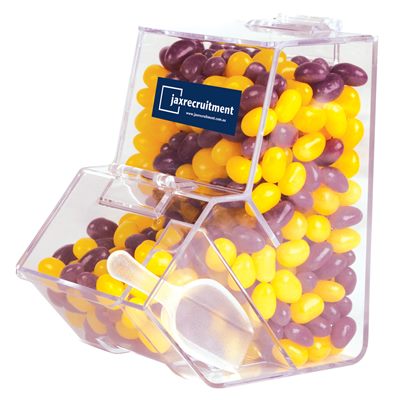 The Confectionery Only Team