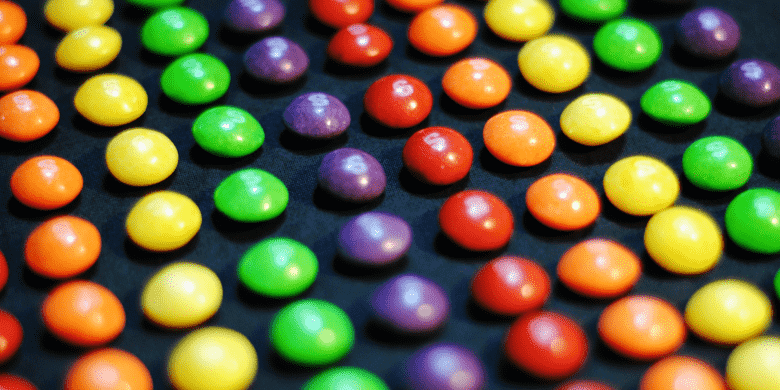 5 April, 2022
The History Of The Humble Skittles Confectionery
We all know it – "Taste the rainbow". The Skittles confectionery advertising campaign was first devised in 1994 and it is one of the longest ever running advertising campaigns. It was devised by a New York advertising agency called D'Arcy Masius Benton and Bowles. The big question though is where did skittles come from. Many people think it is an American confectionery, but that's not true. Its origins are a little murky, but it is believed it was first manufactured by a British company in 1974 and supplied only in Britain. It made its way across the Atlantic in 1979 and within a few years, it was then being produced by Wrigleys. Nowadays you will find them in 65 different countries and Skittles are rated the number 2 confectionery in America.
If you believe the myths, it is said a British man was looking at a rainbow one day and pondered on what a rainbow would taste like – and Skittles were born. Nobody can actually prove this and the speculation is they were first produced by an unknown British firm until Wrigleys in the USA took overproduction. As to the name, it is widely believed it is derived from the game of Skittles which is played in Scotland, England and Wales. The candy looks like an object in the games whereby a person has to throw a wooden or round sphere at 9 pins. Again, there is no solid proof of this, but both the idea and name make for a nice story.
The original line-up of flavours was Orange, Strawberry, Grape, Lemon and Lime. In 2013 they decided to replace the lime flavoured Skittle with green apple. There was such a backlash from die-hard Skittle fans, the company had to reinstate the lime flavour.
Since those early days, Skittles now has a massive range of flavours and packaging. They introduced varying packaging and a huge range of flavours. Skittle Chewies is a normal Skittle without the shell around the candy. It's a softer and chewier version than the original and the colours are less vivid. They also brought out a Skittles Ice Cream, which if you read the packaging, they say "Skittles Cooler, made with fruit; Fruit flavoured candies with ice cream wrapped in refreshing strawberry sorbet". Basically, it is a red coloured sorbet, wrapped around pink ice cream and speckled with Skittle pieces. They even brought out a Skittles Rainbow Party Cake. It was a ridiculous looking cake with purple, orange and yellow layers inside, surrounded by orange, yellow, green and purple coloured frosting.
The list of the different types of flavours of Skittles that you can get nowadays is ridiculous. Just see the list below
Original
Sweet and Sour
Tropical
Wild Berry
Sour
Crazy Sours
Trick Plays Skittles (Football themed Skittles Edition where the colours don't match the flavours)
Riddles Skittles (Special Edition where the colours don't match the flavours)
Impostors Skittles (Special Edition where the colours don't match the flavours)
Orchards (Includes the flavours Cherry, Lime, Peach, Red Apple, and Orange.
Sweet Heat
Cauldron (Seasonal edition with the flavours Lurking Lemon, Twisted Tangerine, Bogey Berry, Gripping Grape and Petrified Pear.)
Skittles Crazy Cores
Double Sour Skittles
Chocolatey Eruption Skittles
Berry Explosion Skittles
Bubble Gum flavoured Skittles
Skittles Fizzl'd Fruits (Fizzes when eaten.)
Tangy Tropical (Includes the flavours: Kiwi Lime, Mango Tangelo, Pineapple Passionfruit, Banana Berry, and Strawberry Star Fruit).
Fruit And Creme
Brightside Skittles (Includes the flavours Watermelon, Pink Lemonade, Tangerine, Kiwi Banana, and Paradise Punch.)
Darkside Skittles (Includes the flavours: Black Cherry, Blood Orange, Dark Berry Midnight Lime, Forbidden Fruit flavour, and some versions had Pomegranate flavour)
Summer Splash
Citrus Skittles
America Mix (Red, white, and blue coloured Skittles edition)
Love Mix Skittles (Valentines Day Edition)
Freeze Pop Skittles (Limited Edition)
Long Lost Time (Limited edition that includes Lime flavoured Skittles.)
Sour Wildberry
Sour Skittles With Green Apple And Watermelon
Carnival flavours (Limited edition featuring the flavours (Candy Apple, Bubble Gum, Green Slushy, Cotton Candy, and Red Liquorice.)
Chocolate Mix (Includes the flavours S'mores, Vanilla, Chocolate Caramel, Chocolate Pudding and Brownies Batter)
Zombie Skittles Edition (includes the flavours Mummified Melon, Chilling Black Cherry, Blood Red Berry, Petrifying Citrus Punch, and Bogeyman Blackberry.)
Desserts Edition Skittles (Includes the flavours Orange Creme, Key Lime Pie, Strawberry Milkshake, Blueberry, and Tart Raspberry Sorbet
Skittles Dips (Special Edition with a creamy flavoured yogurt coating.)
Mint Skittles (Includes the flavours Peppermint, Spearmint and Cool Mint)
Skittles Confused Edition
Blenders (Blended fruit flavours. Includes the flavours: Melon Berry Burst, Strawberry Lime Blast, Watermelon Green Apple Freeze, Cherry Tropicolada, and Mango Lemonade Freeze.)
Skittles Ice Creme (Limited Edition)
Skittles Unlimited
Fruit Skittles Bubble Gum (New Edition)
Xtreme Fruit Skittles Bubble Gum flavour (New Edition)
Carnival Skittles Bubble Gum (New Edition)
Seattle Mix (Superbowl Edition Skittles)
Sensations (Includes the flavours: Chili Berry, Sour Apple, Lemon Tingle, Cool Raspberry, and Juicy Orange)
Now sold in over 65 countries, there is no doubting Skittles' popularity. You'll find a great assortment of Skittles on our website, but if you would like help picking which type would work best for your promotion or you need advice on other confectionery, don't hesitate to call us.
Reference: https://www.snackhistory.com/skittles/
The Confectionery Only Team