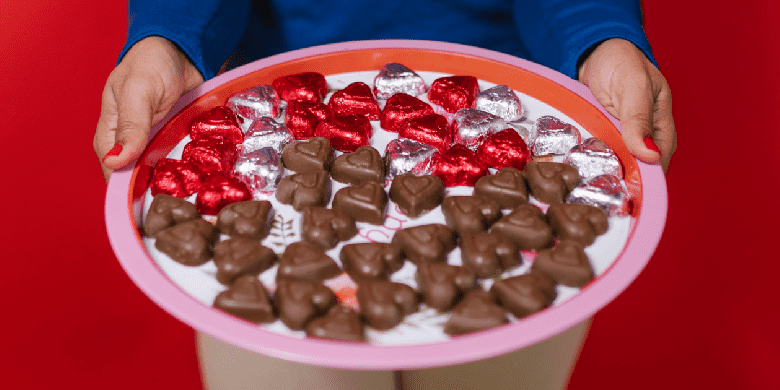 6 December, 2021
Popular Promotional Confectionery For Weddings
The big day is coming, and you want something fun for guests to have at your wedding. That's where promotional confectionery comes in. Some of the more popular styles are custom rock candy, chocolate foil hearts, chocolate coins, confectionery filled champagne bottles, acrylic heart-shaped containers and more. To help you decide, we've listed some of the more popular ideas and how to use them for your wedding favours.
Custom Rock Candy: This has to be one of our biggest sellers. You can get them in a range of packaging, from little cello bags, small jars, noodle boxes or even just buy in bulk and put several on the plates for guests as they arrive at your reception. They are small, hard, chewy confectionery, and they are commonly branded with the bride and groom's initials.
Heart Shaped Chocolates: The ideal wedding favours are anything heart-shaped, so the perfect one for all those sweet-toothed people are heart-shaped chocolates. Wrapped In foil, you can put a full colour printed sticker on the outside with your names and possibly the date of the wedding.
Custom wrapped Neopolitan Chocolates: These are a great little giveaway as you can get a full-colour wrapper. In addition, you can put an image of the bride and groom along with the marriage date details. They are a cheap but very effective way for guests to remember your wedding day.
Custom Filled Champagne Bottles: These are very cute and certainly keep the celebrations alive. They are mini plastic champagne bottles that you can fill with your favourite candy. You can get jelly beans, mints, chocolate beans and more. They come with a gold or silver foiled top and then a printed sticker on the body. Put one of these in front of each guest as they sit down. It's very unique and gives them a lovely keepsake to enjoy after the wedding.
Heart Shaped Glass Jars: Another popular choice are these heart shaped jars filled with promotional confectionery. Again, they can be filled with lots of different tasty lollies such as toffees, jelly beans, red lips, mints, M&Ms and more and then a sticker can be applied to the front with your wedding details.
There are so many options when it comes to promotional confectionery as wedding favours. All sorts of packaging and fillings, the choice can be overwhelming, so if you need help choosing the right confectionery for your wedding, send us an email or give us a call and we'd be delighted to help you in the decision making.
The Confectionery Only Team