Memorable Promotional Sweets
At ConfectioneryOnly, we are known for our delicious range of mouth watering jelly beans. All our jelly beans come in a wide selection of mixed flavours. They are the number one choice when it comes to picking the right quintessential confectionery item as your next promotional giveaway - reinforces the awareness of broad appeal, with a wide range of flavours and colours.
We are the number one leading manufacturer of delicious, vibrant and colourful lollies that suit everyone's taste buds. Though we provide a wide variety of jelly beans, our most popular and newest selection are our Assorted - Jelly Beans Pack. Assorted Jelly Beans Pack make a fun and memorable promotional sweet that is highly received by consumers. They are popular for their flavoursome aftertaste and strategical marketing exposure. What I mean by "marketing exposure" is that these Assorted - Jelly Beans can be printed with your company name and logo. Having your company advertised on a smart promotional product, you are bound to have a successive response from potential clients.
Assorted - Jelly Beans Pack are available in bulk ordering. They are packaged in a clear coloured pack of assorted jelly beans and is finalised with either a
round sticker
square sticker
rectangle sticker
These stickers are used to promote your name. There is enough print area for you to advertise your required message vividly. Hospitals, Schools, Offices and Daycare facilities order our Assorted - Jelly Beans Pack to get a clearer message across. Who would say no to receiving one of these delicious confectionery packs to carry around for those sweet sugar cravings. Look no further than our Assorted - Jelly Beans Pack that are also great value for money promotional item.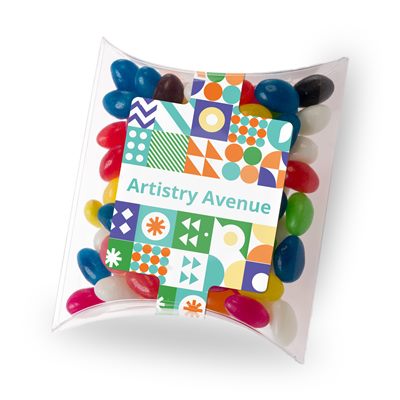 6 October, 2015
The Confectionery Only Team