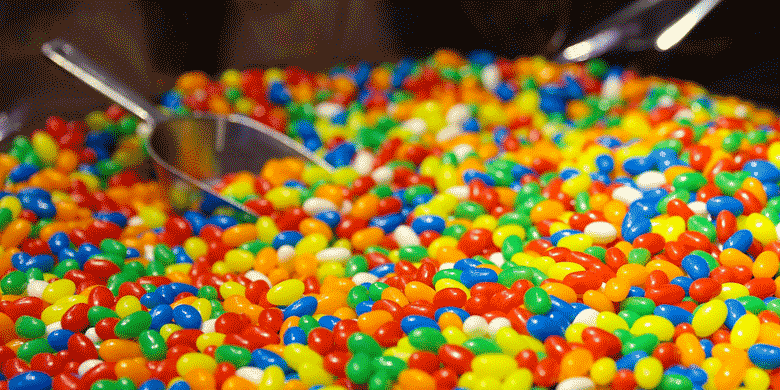 28 June, 2022
Interesting Facts About Jelly Beans
Jelly beans need no introduction when it comes to promotional confectionery. They have always been very popular and it's easy to see why. Bright colours, big flavours and long-lasting, jelly beans come in a huge range of branded packaging and are always a favourite handout. We've scoured for some interesting facts about jelly beans that perhaps you are not aware of and wanted to share with you. Hopefully, you'll find it fun to read and possibly learn a little something else about jelly beans along the way.
Jelly beans were the first confectionery to be sold by weight rather than price.

Each colour of jelly bean used to be sold separately.

Each day 1,680 beans are made per second, that's 1,250,000 beans per hour or 300,000 pounds per day. In 2021, 16 billion jelly beans were manufactured.

Jelly beans are available in more than 100 flavours.

It is claimed that jelly beans were first mentioned in 1861 when a confectioner based in Boston called Wiliam Shraft asked people to send his jelly beans to soldiers during the American Civil War.

On July 5, 1905, jelly beans were mentioned in the Chicago Daily News for the first time.

The most popular flavour of jelly beans is Very Cherry.

When Beatlemania broke out in 1964, fans in America threw jelly beans at them.

President Reagan's favourite candy was jelly beans. He started eating them to help him quit smoking his pipe and ever since always had jelly beans by his side.

Jelly beans were sent with the challenger space shuttle in the 80s.

A portrait of President Reagan was made from 10,000 Jelly Belly beans and hangs in the Ronald Reagan Presidential Library in Simi Valley, Calif.

Last year, the total consumption of jelly beans was enough to circle the globe more than 5 times if they were placed end on end.

If we still used the traditional method to make Jelly beans, it would take up to 21 days to manufacture one bean.

Properly stored, jelly beans will last for about 10 months at normal room temperature.
So there you have it. Some fun facts about jelly beans that maybe you weren't aware of. Just to show you how popular they are, we have over 150 different packaging shapes of jelly beans on our website. That's a lot! If you want to run a promotional campaign using promotional jelly beans, but aren't sure what would work best, give us a call or send us an email and we'd love to help. With over 20 years of experience, we know what it takes for a successful jelly bean promotion.
Sources:
https://news.jellybelly.com/brand-fact-sheet-jelly-belly-jelly-beans/
https://www.chutters.com/blog/13-things-to-know-about-jelly-beans
https://en.wikipedia.org/wiki/Jelly_bean
The Confectionery Only Team