Find Your Inner Sweetness
Do you want to find a fantastic present for
Birthdays
Weddings
Anniversaries and
Christmas
That will knock their socks off? Here at ConfectioneryOnly, you are bound to find the perfect chocolate sweet for your special someone, friend or family.
Our Napolitain Milk Chocolate Foil Wrapper 6g are our most popular chocolate gift boxes yet! They are extremely delicious and appealing. These chocolate gift boxes come in a beautiful tasting creamy smooth milk Belgian chocolate that are 33 x 33 x 5mm in size, and weigh 6 grams coming with 300 pieces in each carton ordered. The best part about ordering these chocolates are instead of having to order them in bulk units, with these Milk Chocolate Foil Wrappers you can have the minimum of ONE carton per order. They come in a wide range of colour options and chocolate options (ranging from milk chocolate to dark chocolate) for example, Gold/Milk Chocolate, Silver/Milk Chocolate, Gold/Dark Chocolate, Silver/Dark Chocolate.

Napolitain Milk Chocolate Foil Wrapper 6g become cheaper if you order in bulk units. So hurry, give us a call on 1800 008 770 for these mouthwatering goodies.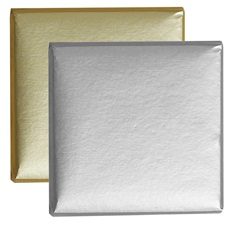 30 September, 2015
The Confectionery Only Team