A Great Way To Promote Your Business Further
Mint tins are a great way to promote your business further. They are
delicious
handy to have wherever you go
light to carry around
inexpensive
People tend to buy mints because
it gets rid of bad breath
it tastes great
they are handy to have at work or in class when you're feeling super hungry
At ConfectioneryOnly, we supply a vast range of amazing promotional peppermint tins that taste great and are inexpensive. Our promotional peppermint tins are a smart and effective way to promote your brand as they are the most bought sweets in Australia.
"Last year, 3.6 million Australians aged 14+ ate mints in an average four weeks, but just 2.7 million of these mint-eaters bought any in the same period, the latest data from Roy Morgan Research shows." - Roy Morgan
Seeing that so many Australians LOVE their mints, it is best for companies to provide their consumers with mints that are branded under their name. This allows consumers to
take acknowledgement of your company
remember your brand
appreciate your business
These promotional peppermint tins are popular Australian made promotional giveaways that come in 60g of breath freshening cello bagged mints; displayed inside our beautiful silver tin box that comes with a re-sealable lid. The lid on our promotional mint tins can be customised to showcase your brand loud and clear. When your customers reach in to grab a mint, they will always have your company's vision at sight! Order our promotional peppermint tins in bulk today!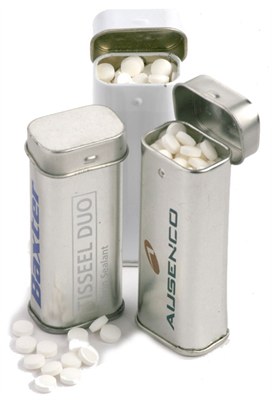 References
http://www.roymorgan.com/findings/5483-mints-consumers-and-buyers-eclipse-mentos-tic-tac-december-2013-201403122142


27 July, 2015
The Confectionery Only Team